Friday book list # 12: A Man lay Dead and Enter a Murderer by Ngaio Marsh
I have started re-reading Ngaio Marsh's delightful detective novels featuring Roderick Alleyn. Here are the publications mentioned in the first two:
Novels/novellas:
Suspense - Joseph Conrad
The Kreuzer Sonata - probably the novella by Leo Tolstoy, since the owner of the book is Russian

Other:
Webster's Dictionary
Eyes and No Eyes - There are several publications with this title and I can't begin to guess which one is being referred to, because the reference completely went over my head.
The Ideal Home - this appears to be a magazine along the lines of Better Homes and Gardens.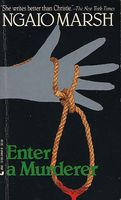 #2:
Enter a Murderer:
Stage works:
The Rat and the Beaver - an imaginary play by an author whose name is not given; the murder takes place on stage during a performance of it
The Pirates of Penzance - comic opera by Gilbert & Sullivan
Othello - Shakespeare
Madame X - Alexandre Bisson
Other:
The Morning Express - newspaper, may have existed at that time but no longer
La Vie Parisienne - French erotic magazine (typically, the evil murder victim has a 'striking' framed picture from it hanging in his apartment)